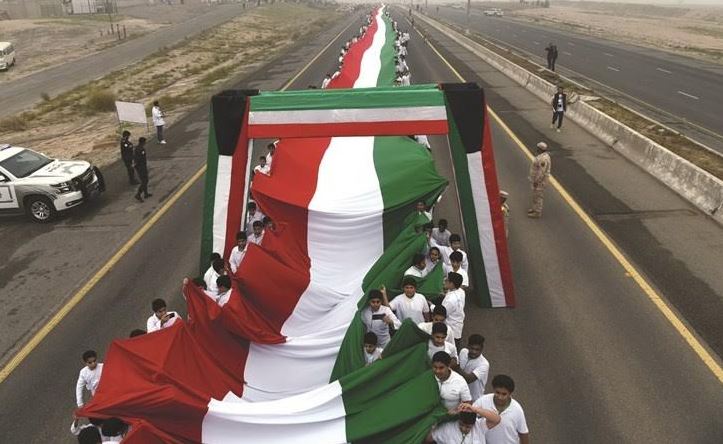 Kuwait has succeeded in entering the Guinness World Record book for longest flag as part of festivities marking the 13th anniversary of the Amir's ascension to power.
More than 4,000 students paraded with a 2,019-metre-long Kuwaiti flag along a road that was blocked to traffic, Kuwait Times reported.
Various state bodies participated in the event, including the defence ministry, interior ministry, fire department, municipality, ministry of public works, information ministry and other institutions.
The celebration also included a parade by mounted police officers on horses and camels and vehicles of the fire department. Elementary students presented folk dances and other students recited poems.
Kuwait previously set a record for the world's longest flag in February 2016, after a remote-controlled plane pulled the flag during a show held in Mina Abdullah.
In December last year, three Kuwaiti army officers broke a skydiving world record after leaping 13,000 feet while carrying a 63sqm Kuwaiti flag.
In the same month, Chevrolet achieved a Guinness World Records title for the largest flag flown by a vehicle after a pickup pulled a Kuwaiti flag measuring 433sqm for more than 100m without any part of it touching the ground.
Facebook Comments